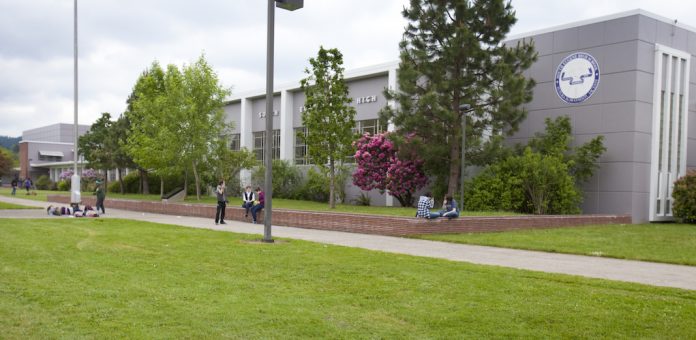 C'est Noël pour les programmes bilingues aux Etats-Unis. 150.000 dollars issus du Fonds pour l'enseignement bilingue, inauguré par Emmanuel Macron en septembre, ont été ventilés entre 58 écoles et programmes français-anglais publics représentant plus de 24.000 élèves (liste ci-dessous) pour acheter du matériel ou soutenir des événements culturels notamment. L'annonce a été faite, mardi 23 janvier, par la conseillère culturelle Bénédicte de Montlaur lors d'un petit-déjeuner avec la presse à New York.
Soixante dix-neuf établissements ont répondu à l'appel à projets cette année. Selon les statistiques de FACE et des Services culturels de l'Ambassade de France aux Etats-Unis, 59% des projets retenus ont demandé des fonds pour acquérir des ressources pédagogiques bilingues. Plus de la moitiés des élèves dans 36% des écoles financées cette année par le fonds bénéficient de repas gratuits ou à prix réduits.
Ce fonds bilingue a été créé pour couvrir les besoins humains et matériels des programmes bilingues lancés ces dernières années dans les écoles publiques américaines. Au total, 400.000 dollars seront ventilés par an sur cinq ans, soit 150.000 pour le programme de bourses, 180.000 en bourses destinées spécifiquement à la formation de futurs enseignants et 70.000 pour aider les écoles à accueillir des enseignants de français stagiaires.
La liste des lauréats:
DESERT SUN ACADEMY 
Arizona
Project: Bonjour Arizona!
ALTADENA ELEMENTARY SCHOOL 
California
Project: Altadena Elementary School French Dual-Language Immersion Program  
FRANK D. PARENT K-8 
California
Project: Development of Frank D. Parent French Dual-Language Immersion Program  
FRANKLIN MAGNET SCHOOL 
California
Project: Projet Essor  
RICHLAND AVENUE ELEMENTARY 
California
Project: Still Need More Books  
THE LANGUAGE ACADEMY 
California
Project: French Reading Assessment and Curriculum Enrichment  
DOUGLAS COUNTY 
Colorado
Project: French Resources and Library  
GLOBAL VILLAGE ACADEMY 
Colorado
Project: Professional Development for Teachers  
DC INTERNATIONAL SCHOOL 
District of Columbia
Project: La Francophonie: Découverte et Partage  
ELSIE WHITLOW STOKES 
District of Columbia
Project: French Levelled Literacy Intervention  
MIAMI-DADE COUNTY PUBLIC SCHOOLS 
Florida
Project: Sponsorship of Cinemagique workshops to Miami Dade County public school students enrolled in the French International Studies program  
SUNSET ELEMENTARY 
Florida
Project: Francophone Environment through the effective use of literacy and technology  
EVANSDALE ELEMENTARY SCHOOL 
Georgia
Project: Professional Development for teachers and administrator at Evansdale  
GLOBE ACADEMY 
Georgia
Project: French in Content Areas  
GWNETTE COUNTY PUBLIC SCHOOLS 
Georgia
Project: French Dual Language Immersion (DLI) Teacher and Administrator Professional Development: Focus on literacy
CHAMPAIGN COMMUNITY UNIT SCHOOL DISTRICT #4 
Illinois
Project: Stratton Elementary French-English Two Way Immersion (TWI) Program 
JEFFERSON COUNTY PUBLIC SCHOOLS
Kentucky
Project: Planning for a French Immersion Program  
BATON ROUGE FOREIGN LANGUAGE ACADEMIC IMMERSION MAGNET 
Louisiana
Project: Le Tour de France en Lisant  
EDWARD HYNES CHARTER SCHOOL
Louisiana
Project: Increasing Capacity for Student Engagement in a French Language Immersion & FLES School
FREDERICK DOUGLASS ELEMENTARY 
Louisiana
Project: "Forever Free" French Literacy for Frederick Douglass Elementary  
LAFAYETTE PUBLIC SCHOOLS 
Louisiana
Project: Chantons Ensemble!  
LOUISIANA STATE DEPARTMENT OF EDUCATION 
Louisiana
Project: Immersion Built to Last 
MAMOU ELEMENTARY SCHOOL 
Louisiana
Project: Preserving Our French Language Through Literacy! / Lecteurs Cajun 
MYRTLE PLACE ELEMENTARY 
Louisiana
Project: Use of integrated approach and Bi-literacy methods to address the fossilized errors in French immersion  
PAUL BREAUX MIDDLE SCHOOL 
Louisiana
Project: Gifted Services for Immersion Students
PRAIRIE ELEMENTARY 
Louisiana
Project: BiblioTECH 
S.J. WELSH AND MOSS BLUFF MIDDLE SCHOOLS 
Louisiana
Project: Historic Anniversary Celebration  
VILLE PLATTE ELEMENTARY 
Louisiana
Project: Fluent French Readers @ VPE  
BALTIMORE INTERNATIONAL ACADEMY 
Maryland
Project: Digital Language Learning Technology Environment  
CENTRAL HIGH SCHOOL 
Maryland
Project: Pop Culture  
DORA KENNEDY FRENCH IMMERSION 
Maryland
Project: Improving Kids' French  
MAYA ANGELOU FRENCH IMMERSION 
Maryland
Project: Foire aux magazines  
MONTGOMERY COUNTY PUBLIC SCHOOLS 
Maryland
Project: Elevating the quality of instruction in immersion classrooms  
SLIGO CREEK ELEMENTARY SCHOOL 
Oregon
Project: Increase books, increase language development  
HOLLISTON PUBLIC SCHOOLS 
Massachusetts
Project: French Immersion for a new generation of learners  
THE BOERUM HILL SCHOOL
New York
Project: The Boerum Hill School French Immersion Program
LAFAYETTE ACADEMY 
New York
Project: Developing the Francophone Environment at Lafayette Academy through the Creation of a Multi-Media School Library  
NEW YORK FRENCH AMERICAN CHARTER SCHOOL 
New York
Project: NYFACS Transitional Program to the Lycée Français of New York  
PS 58 THE CARROLL SCHOOL 
New York
Project: Dual Language Program Teacher Planning  
PS84 LILIAN WEBER 
New York
Project: French phonics and literacy development  
PS110 THE MONITOR 
New York
Project: "Just Right" French Books: Developing independent reading skills and motivation 
E.E. WADDELL LANGUAGE ACADEMY 
North Carolina
Project: Extension of Levelled French Classroom Libraries
LE MONDE INTERNATIONAL SCHOOL 
Oklahoma
Project: Opening a new French Immersion Public Charter School in Norman, Oklahoma: Le Monde International School  
CHARLEMAGNE ELEMENTARY 
Oregon
Project: CARLA Professional Development  
LE MONDE FRENCH IMMERSION PUBLIC CHARTER SCHOOL 
Oregon
Project: Literacy Expansion and Support  
SOUTH EUGENE HIGH SCHOOL 
Oregon
Project: Livres pour la Lecture Libre  
BLYTHE ACADEMY OF LANGUAGES 
South Carolina
Project: Ecoutons!  
EDGEMONT ELEMENTRAY SCHOOL 
Utah
Project: Listening Centres for French Immersion Classes
DAVIS SCHOOL DISTRICT 
Utah
Project: Reading Proficiency
DIAMOND RIDGE ELEMENTARY 
Utah
Project: Discover French Culture
FOX HOLLOW ELEMENTARY 
Utah
Project: Creation of a French game-board library
GRANITE SCHOOL DISTRICT 
Utah
Project: In conjunction with the French digital platform, CANOPE, develop videos based on and/or adapted to AAPPL's Tasks and Topics  
GRANTSVILLE ELEMENTARY 
Utah
Project: Writing, Illustrating and publishing a multi-hand children book
MUELLER PARK JUNION HIGH 
Utah
Project: Acquisition de la langue à travers la lecture pour tous
PROVIDENCE ELEMENTARY SCHOOL 
Utah
Project: Providence Elementary French DLI Resource Library
UNIVERSITY OF UTAH 
Utah
Project: French Bridge Program
KENT GARDENS ELEMENTARY SCHOOLS 
Virginia
Project: Roaring in French! 
MILWAUKEE PUBLIC SCHOOLS 
Wisconsin
Project: DELF Prim exam funding